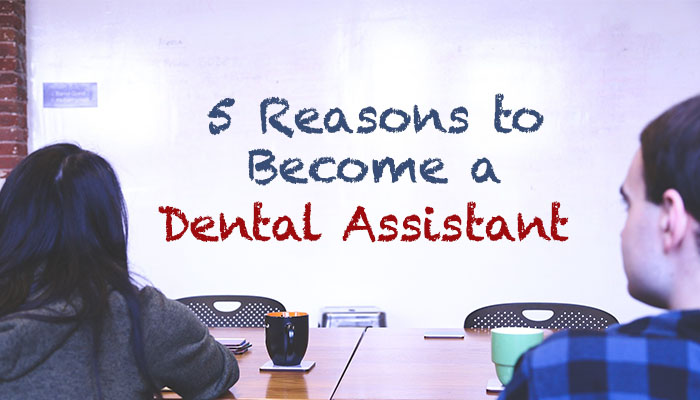 Dental assistants work with a dentist to help patients achieve optimal oral health. They work side-by-side with the dentist as well as manage some of the more technical aspects of running a dental practice. Work variety is one aspect of the job that makes it very fun and interesting, but there are other great reasons to become a dental assistant. Below we discuss our top five reasons for becoming a dental assistant.
1. Job Security
The job growth for dental assistants is very good, and this means that there will be many good opportunities available to you.The most recent data on dental assistants (2014-2024) shows that employment for this line of work is expected to grow 18%, a much faster rate than the average of all occupations. As awareness continues to grow concerning the importance of oral health, more and more people are visiting their dentist for preventive services.
2. Great Benefits
If you work for a dental office, you'll probably get to enjoy the benefits that comes with that business. Most dental assistants get dental insurance, medical insurance, paid time off, paid sick leave, paid holidays, and even retirement planning. The benefits are not set in stone, though, it all depends on the business that you choose to work for.
3. Fun Working Environment
If you want to work in a professional setting while still getting to work with people, then you would love being a dental assistant. In this role, you have plenty of opportunities to meet and interact with different people, all while helping them achieve good oral health. Your demeanor and personality could help soothe nervous or anxious patients. If you think you're a people-person, or someone who has a good bedside manner, then this could be the perfect job for you.
In addition to helping people, you also get to work on your feet while wearing comfortable scrubs. If you dislike the idea of working at a desk job, then this is just another benefit of becoming a dental assistant!
4. Fulfilling & Meaningful Work
Your interpersonal skills may be great, and you probably already know you like working a job with a lot of variety, but being a dental assistant is even more than that. Your job has a lot of significance and is truly helping others. You perform technical tasks such as taking oral impressions, combating infection and tooth decay, and even managing the business by assisting with the front office. Your work as a dental assistant brings good oral health to your patients, and many dental assistants report feelings of strong personal and professional work satisfaction through this.
5. Flexibility
As a dental assistant, your hours will reflect the dental office you work for. Many dentists work either partial weeks, or fewer than 8 hours a day. Most dentists are not open on weekends, major holidays, or late at night. This means your schedule will be predictable and regular. Additionally, some dental assistants work part-time, so if you have a lot of commitments outside of work, then this could be very beneficial to you.
Are you interested in becoming a dental assistant? Contact us today about our affordable program!
Contact us for more information!